Brazil Under the Skin Collection
For our new collection, 'Brazil Under the Skin' we've invited tattoo-artist Daniel Ferrari (son of tattoo master Carlinhos Tattoo) to share with us his interpretation of five iconic Brazilian animals. Drawing from the specific techniques of his art to reinvent these creatures' silhouettes and movements, Daniel enhanced our textiles with Nature's strength and beauty. Through abstract shapes and refined lines, he pays homage to some magnificent albeit endangered wildlife.
Marvel at the Jaguar's Back, the Jacundá Fish, the Toucan, the Anteater and the Ocelot's
Eyes gracing our warm, colourful throws.

Our creations
Our creations are elegant and original, but they also reflect our commitment to Brazil's native communities who participate in their making.
Our Classics, Pattern of Brazil and Tekoa Tape Mirim collections are as diverse as beautiful, and are all designed with the same care for detail and materials.
In a spirit of equity and fairness, 15% of the sale price of this collection goes to the communities that collaborate with us.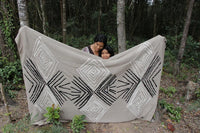 Collection Tekoa Tape Mirim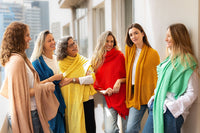 NEW : COLOUR SCARVES
A timeless accessory, our scarves come in a variety of solid, subtle or vibrant colours. With two sizes available, you can tie them around your neck or drape them on your shoulders.
The CEYLA LACERDA scarf collection, for women and men, will keep you warm and enhance
your style in any season.

Découvrir ici
Discover our cushions
Moira pillow cover

Regular price

Sale price

€50,00

Naomi Cushion

Regular price

Sale price

€50,00

Yara pillow cover

Regular price

Sale price

€50,00